Ellen Page kind of let me down. First movie! Oscar nominee! Played something of a cultural and personal role model figure to a lot of young adults, someone emulate-able, and with interesting and unique style (she wears a pleated skirt over jeans)! Is being admired and praised and seen as intriguing and cool by most of the country! Aaaand she shows up to the Oscars in this:
GET A MORE EXCITING DRESS!!! I mean... don't you WANT a more exciting dress? You're a nominee, major designers TOTALLY want to dress you. You don't have to be like the High School Musical kids who show up to shit wearing Juicy. Sigh. She was dressed like a chaperone at a high school prom. She's so adorbs!!! Why not embrace it?! Throw on some frills, some pink shoes, a bird in your hair... something! Remember when Anna Paquin won when she was like 12 for The Piano and she had that craaaaaazy poofy dress and that heinous hat and the whole thing was very medieval times? THAT was taking advantage of the first oscar nod situation.
Here's a video for reference:
I guess in retrospect she's VERY young and so it's probably mean and unnecessary to make fun of her outfit like that but she's my age and I remember being pretty appalled by it at the time, too, so I see that as legitimizing my criticism.
Anyways, point is, that outfit was heinous but at least she got to DO something. Ellen Page just dressed for the Junior homecoming dance that she doesn't really want to go to but she has to because her mom's making her go with this boy who's new in town but she just totally doesn't realize what a skeezy loser the guy is and so ellen page just said fuck it and threw on some pearls and some shoes that she doesn't really like and are too clunky for that dress* and smoked pot out back after asking her lame-o date for some punch 11 times before he got the hint.
It's not even the plain black simple cut thing. She's done that several times very successfully.
see?
SEE?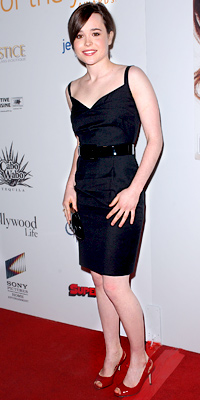 SEE?!!!?
SEE!!!?!!
In fact, it seems to be, essentially, what she does. But you know what? I approve of all of these! In fact, I sort of covet the 3rd one! But it's the OSCARS and you're ADORABLE and WHO CARES if it's a little ridiculous that you were nominated (even though I'm soooo glad you were and I loooooved the movie), EMBRACE IT! WEAR COLOR! Sigh. This whole thing is very upsetting.
Jennifer Garner looked gorgeous. Marion Cottillard or however you spell it is precious. I still love Ellen Page. Where was Jason Bateman? Michael Cera? Lindsay Lohan? WAIT WHERE WAS LINDSAY LOHAN? She has officially been demoted from Actress (legitimate) to pure pop culture fodder (Hilton-esque). Sad times.
*I haven't seen what shoes she was actually wearing.